About Rokon!
Welcome to ROKONTM the worlds only manufacturer of dual wheel drive off road vehicles. For over 40 years ROKONs have taken riders to places that no other vehicle can. Rugged, lightweight, with wide tires and a high ground clearance, ROKONs deliver sure-footed traction and lots of pulling power. Some fifty accessories complete the ROKONs unmatched versatility for work or recreational activities.

Roughly 48 years ago, a California inventor set out to build the ultimate in an off road vehicle. It had to go anywhere and be a rugged workhorse. With this in mind a two-wheel drive vehicle with hollow wheels was designed and produced. Some call it a bike but the name Mototractor more closely identifies it.
Today the ROKON remains legendary in its abilities, and we intend to continue and enhance this tradition. You won't find fancy model names or color options. They just do not mean much out where you are. However, you will find ROKONs do one thing better than any other vehicle made - get the job done.
In the late 1950's J. B. Nethercutt, owner of the Merle Norman Cosmetics, created the original company to produce "Trail-Breakers."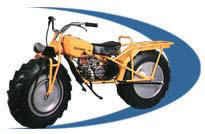 These two wheel drive wonders caught the imagination of many. Power to both wheels in a lightweight yet strong frame design gave riders nimble and versatile traction off road. The original ROKON design was simple. This afforded a high degree of reliability. Although there have been many refinements to today's ROKONs, the idea of simple reliability lives on in every product.
ROKON appearances on Mutual of Omaha's Wild Kingdom TV series helped to popularize the machines. Marlin Perkin's colorful descriptions of Jim Fowler's riding exploits in Kenya and Peru secured the vehicle's go anywhere reputation. Even today Jim Fowler continues to use ROKONs for wild animal research.
The real invention was the unique two-wheel drive system. With it ROKON is the only vehicle able to go anywhere. Balanced power and weight gives you the ability to do more off road.

In the early 1960's the company was purchased and moved from California to Wilmington, Vermont. Production of ROKONs began in earnest, and it was well received. A short time later the company moved to New Hampshire, where it has remained ever since.
The evolution of the ROKON continues in order to meet all needs. Each year we add refinements and accessories, increasing the ROKON's capabilities. ROKON vehicles, accessories and parts are still sold factory direct and through a worldwide network of dealers and distributors. Servicing customers is a priority at ROKON.
ROKON takes pride in manufacturing an all-American "go-anywhere" vehicle that will provide years of dependable service. If you would like more information about ROKON two-wheel drive off-road vehicles, please e-mail us,